Update: 14th October 2017.
A great opening project!
Where we were:
23rd September at the Market Place, Blandford.
30th September on the lawn of the Blandford Parish Church.
7th October at the allotment at Lampard's Field.
14th October at the Blandford Town Museum.
About the Days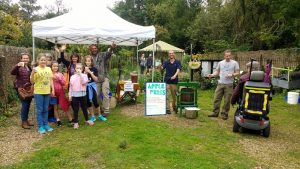 We had a great day in the Market Place with the other lovely market stall holders. The church gave us a lovely vantage place for the bustle of East Street, the allotment group were full of enthusiasm and the final day by the Victorian Gardens behind Blandford Town Museum was a beautiful and peaceful place to wrap up this years pressing.
---
Our first blend of apples and pears made the most fantastic juice that far exceeded expectations. In fact I think it was the nicest apple juice I have ever tasted! It set the bar high for all the other days and each week didn't disappoint. We now have the leftover juice fizzing away as it vigorously turns into cider to remember all the hard work and resulting fun we had running the days. Who knows if it tastes as good as the juice, maybe we'll go into business and create a Blandford Cider from all the amazing trees that are hidden around the town?
Thank you to a number of local councillors, we covered all the start up costs including a years public liability insurance. We came in slightly under budget due to the donation and lending of various bits of equipment, so thank you to all those that helped. From the juicing alone we have raised over £100 for our kitty, a nice foundation to use for future projects.
And, of course, a massive thank you to our volunteers, that worked hard chopping fruit, pulping, pressing and serving with me today and to the other 'behind the scenes' contributors. Without them it would not have been possible! A special thank you to Sanou, who helped at all 4 pressing days, more than even the organisers managed!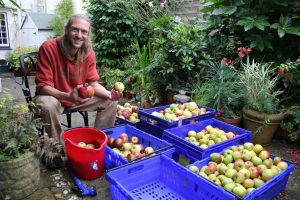 Several members of the public donated apples on various days and allowed us on to their properties to pick theirs as well as the vegetable stall man who donated a crate of apples at the end of one of the days.
---
We used compostable cups which are going to be used as seed pots in an allotment greenhouse until they degrade. After that they will go onto the compost heap!
How is this Transition?
It is such a common sight to see apples left under the tree to rot away. This is a great example of local resources going to waste. Transition is about both reducing waste and using local resources so this project fits perfectly. It gives us an opportunity to highlight these issues and start people thinking about other areas of waste, about what local resources are available and explore other opportunities to forage. We plan to run a foraging project in 2018 and other waste reduction projects as they become viable.
2018 Will be BIG!
We plan to make next year a bigger and better experience to rival even the most seasoned pressing groups. With cakes, cider, toffee apples, apple identification and of course freshly pressed juice. Perhaps we can have a weekend apple festival? Who knows? But this year was so much fun to be involved in and we managed to bring smiles to a lot of visitors, surely it has to be done!